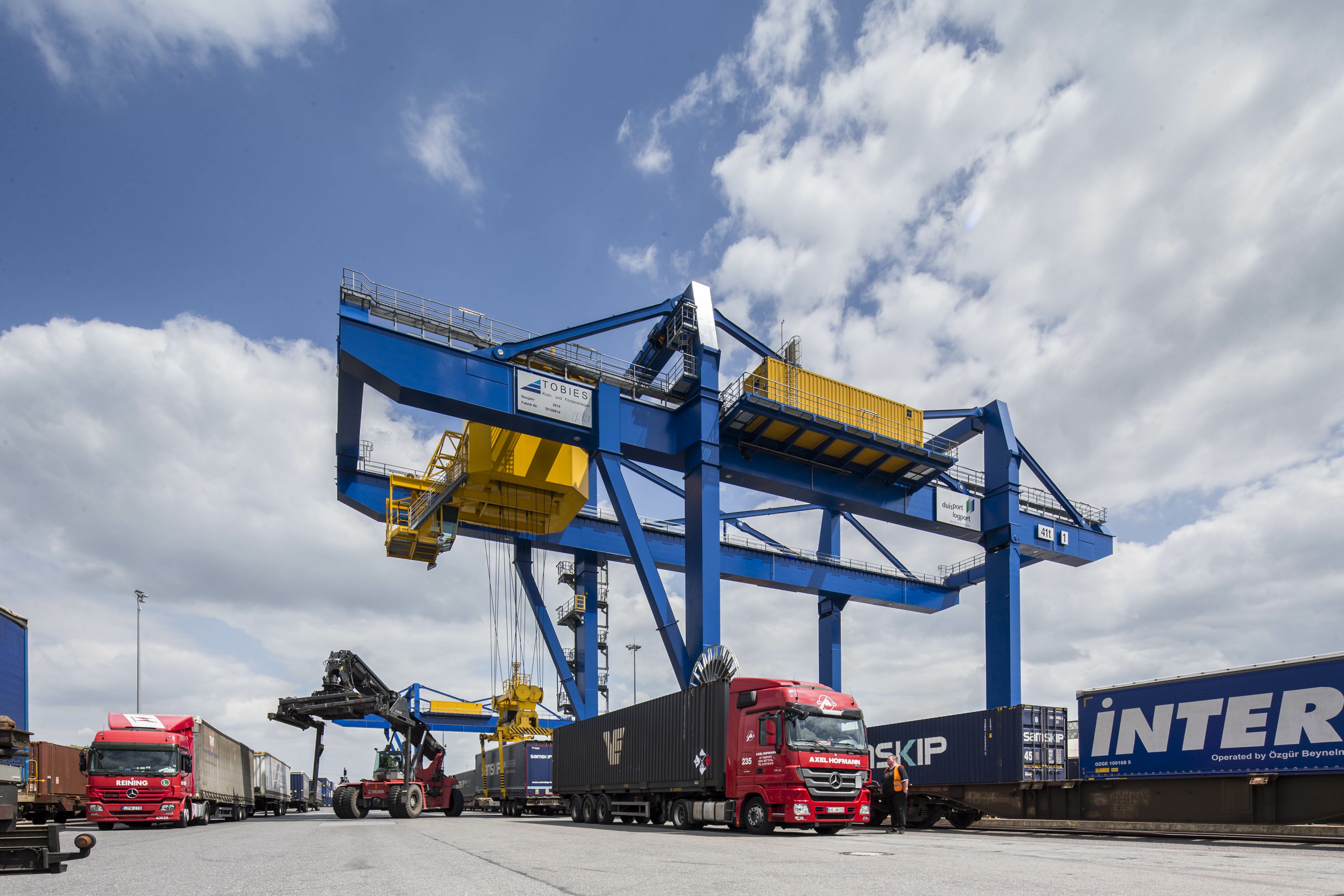 Predicting the future in logistics hubs enhances operational decision-making
The flow of goods is increasing worldwide, and transport hubs such as duisport – the world's largest inland port – are finding it challenging to keep pace with growing trade volumes. The seamless transfer of container and trailer units between ships, trains and trucks is crucial in this respect. The duisport Inland Port Pilot aims to extend duisport's capabilities in becoming an intelligent logistic hub. It is introducing leading technology under the TransformingTransport project to achieve this aim.

There are two key elements necessary to achieve a reliable and goal-oriented workflow within a logistics hub that offers efficient trans-shipment: operational capability of key resources and optimal use of these resources. This includes cranes for picking up units and loading them onto trains or trucks, as well as towing vehicles and reach stackers to transport units within the hub. These resources are under pressure to handle units weighting several tonnes and deliver goods within a tight schedule. The duisport Inland port Pilot enables operational staff to make complex predictions regarding future events and improve their judgment in reaching objectives. The Pilot wants to introduce leading technology in two areas for predicting operational challenges: a predictive maintenance system and a terminal productivity cockpit.

Predictive Maintenance System

The predictive maintenance system supports operational staff in making decisions about the need and time to conduct maintenance on a crane. Being able to schedule a crane's downtime for maintenance work with less impact on external assignments is pivotal for enhancing operational efficiency during high workloads. The system continuously collects data that would further the predictive capabilities in everyday decision-making. It utilises this knowledge to derive predictive models that suggest possible failures of a crane in the future. Providing this information to operational staff radically changes the way things work. Currently, a crane's downtime for maintenance either is governed by a fixed interval or is forced by damage. This obliges operational staff to be reactive instead of proactive in decision making. A proactive decision about a crane's downtime for maintenance enables the staff to adhere to an optimal workflow and complete the job.

Terminal Productivity Cockpit

The terminal productivity cockpit predicts terminal operations against tight schedules, such as delays in clearing freight trains. Unloading and loading a set of trains simultaneously with units of trailers and containers requires synergy among cranes, reach stackers and towing vehicles. The cooperation between machine and vehicle operator depends strongly on external influences such as timely delivery of units to be trans-shipped between trucks and trains. Enabling operational staff to predict delays, for example of departing trains, can avoid major logistics issues. It is crucial to compute accurate predictions as early as possible so that decision makers streamline operations. The cockpit can ultimately help predict how long a delay would be. It allows decision makers to tackle issues by combining this knowledge with their experience.

Overall, giving staff the capability of prediction based on a predictive maintenance system and a terminal productivity system can enhance operation in today's changing and volatile environment. Testing and piloting predictive concepts within a logistics hub prepares port operations for the future. New machine learning and big data technologies will no doubt represent a major step forward to advance proactive decision-making in operational settings.
Photo: © duisport/Frank Reinhold